NCR Counterpoint Hardware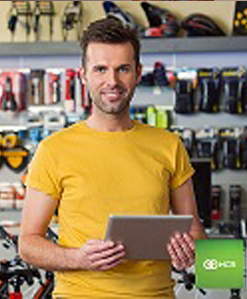 The Business Case at a Glance
NCR solutions provide a rapid path to ROI:
• 4.5 to 5 years: Average time to service for NCR solutions
• 2.5 to 3 years: Average time to service for competitor solutions
• 2 years: Time to achieve ROI for your solution purchase

NCR Counterpoint hardware helps retailers of all sizes optimize store operations. With their bright, graphical touchscreens and transaction displays, our mobile and fixed point-of-sale (POS) terminals help your staff deliver exceptional service. Add key peripherals, such as customer display screens, payment devices, scanners and back-office PC workstations to extend your business capabilities. Benefits include:
• Accelerating speed of service
Our integrated POS solution makes processing
sales easy and efficient. Employees ring tickets and enter orders more swiftly and accurately, while graphical displays, multiple payment options and lightning-fast credit card authorizations speed customer checkout.
• Protecting operational performance
With their rugged design, NCR's retail hardware solutions are built to withstand continuous usage, as well as spills, dirt, grease and other substances. Rest assured that our tools will deliver as expected, maintaining business stability in a high performance environment.
• Maximizing system lifespan
Our systems use solid state electronics and
industrial power supplies to provide quiet,
trouble-free operations. The average time to service is nearly five years, ensuring many sales seasons of uninterrupted service.
• Delivering on our service promise
You are covered by arguably the best warranty in the business. If any component of your retail solution does malfunction, an entirely new unit will be shipped to you as quickly as four hours later, minimizing system downtime and eliminating the possibility of a repeat failure.
• Capitalizing on every sales opportunity
Use interactive transaction and graphical receipt displays to display product promotions and special offers, cross-selling and up-selling customers at the point of sale.
Selling anywhere
Our mobile sales tools, including POS terminals and sleds for iPhones and iPads, enable you to deliver superior service and sales in stores, kiosks and outdoor environments. Serve customers where they are – answering questions, busting lines and capturing additional business.
Key peripherals to enhance service
Add desired peripherals to complete your sales solution. Options include:
• All-in-one touchscreen terminals – Increase speed of service while reducing order errors and employee theft with these interactive color touchscreens, which are powered with magnetic stripe readers for fast payment.
• Customer displays– Allow customers to see items as they are added to their ticket, while displaying ads to boost sales of merchandise and gift cards.
• Payment devices – Enhance customer flexibility with payment devices, while lowering your transaction costs by accepting debit cards.
• Hardware integration tray – Present a sleek sales environment with a tray that conceals bulky POS cables and the cash drawer.
• Fixed and wireless scanners – Process inventory and receiving easily, increasing staff productivity.
• Cash drawers – Secure cash, coins and sales items in a stainless steel drawer.
• Fixed and mobile receipt printers – Provide customers with sales details, while maximizing up-selling and promotional opportunities.
• ONEAC and POWERVAR Power Conditioning – Eliminate power contaminants to increase the life of your NCR retail devices.
Read More